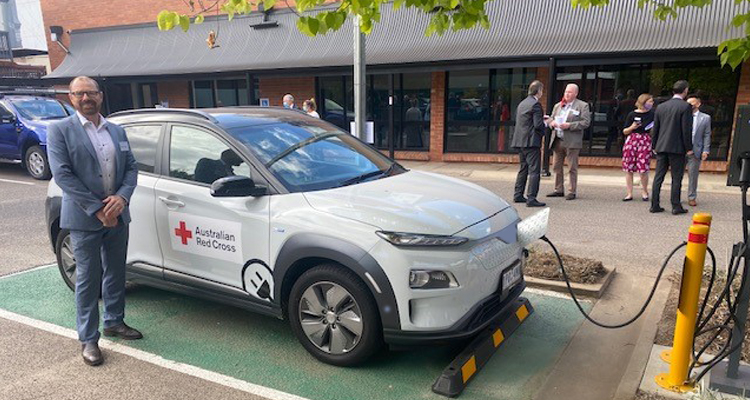 The journey towards greater electric vehicle (EV) adoption is continuing at an increasingly rapid pace and more organisations are starting on their journey towards the use of low and zero emission vehicles than ever before.
At Interleasing we pride ourselves on our expertise in Corporate Fleet Management, with tailored solutions that deliver the right vehicles to our clients based on their specific needs. These solutions now include low or zero emission vehicles, with a focus on sustainability and a lower carbon footprint for our clients, a space we are excited to be at the forefront of.
The transition to low or zero emission vehicles is a unique one for each organisation and with the opening of a new head office in Adelaide, Australian Red Cross has embraced the opportunity to trial a selection of EVs within their national fleet, by further partnering with Interleasing.
New Australian Red Cross Office, Adelaide
The Percy Court building was opened by new Red Cross South Australian Patron, Her Excellency the Honourable Frances Adamson AC, Governor of South Australia, with addresses by the SA Minister for Human Services Michelle Lensink, representing the Premier and Federal Minister for Families and Social Services Senator Anne Ruston.    
The new building allowed Red Cross to take up the opportunity to incorporate EV technology into the design. To coincide with opening, a Hyundai Kona was sourced and supplied by Interleasing to be used by the Adelaide office for a range of purposes, including patient transport. Part of the scope of work in the EV trial was to ensure the office had EV charging facilities installed to enable the recharging of the Hyundai Kona on site.
The building also boasts other environmentally friendly features, with solar panels, LED lighting on sensors, aircon units and zones reducing power consumption by 30% or more. The materials used in its constructions are either from recycled elements or carbon neutral in their manufacturing, and sound absorption panels are made from recycled PET.
Australian Red Cross Strategic and Accommodation Manager Paul Sor says that the decision to 'go green' with the EV fleet trial was a simple one and another step towards a truly carbon neutral Australian Red Cross fleet. "Red Cross knows that many of our clients are affected by natural disasters, displacement and poverty, and climate change is a contributor to all these things. By transitioning to electric vehicles, and once our energy is derived from renewable resources such as solar panels, our vehicles will be truly carbon neutral 'at the tail pipe'. Over time this will make a meaningful contribution to the lowering of greenhouse gases."
"Interleasing is proud to be a part of the opening of the new Australian Red Cross Head Office," says Interleasing Relationship Manager Steve O'Brien.
"We look forward to managing this trial through the incubation period to its ultimate conclusion and providing Red Cross with all the tools and data to help them make informed and commercially prudent decisions about the integration of EV technology into their fleet going forward."
Interleasing lends a hand
Once Australian Red Cross had turned to Interleasing to help with their EV strategy, we put our three-step framework into action to help approach the initial transition in a strategic and holistic way. We know there's no such thing as a 'one size fits all' approach, so our framework assesses the business requirements, employee profile and broader mobility strategy required by each individual client.
We start by assessing where the client is now, their current carbon footprint, their driver behaviour and the variables of employee adoption. Then, we look at the vehicle options available based on the client's budget and the current market environment, including vehicle availability, affordability, and charging infrastructure requirements.
Finally, it's about being ready for what's next, and ensuring our clients not only have the best possible outcome for today, but they're also set up for the future. As part of our ongoing partnership, Interleasing and Red Cross will monitor the EV fleet and during the trial period, use and apply the insights gained from the trial into the broader use of EVs in the organisation and broader corporate marketplace.
"We hope to show people that with sensible planning and charging availability, an EV is just as usable as a petrol car," says Paul. "We'll provide maps of chargers to staff, so they have a degree of comfort using the EVs, they'll learn about availability, public charging, understanding range etc. We also want to understand and track how much our greenhouse gases have fallen and our carbon footprint has reduced over time."
With 16,000 volunteers across Australia, Paul also hopes to increase the awareness around EVs and will provide access to the vehicles so Red Cross people can experience an EV while doing their vital work supporting vulnerable people.
"Our new SA office has many design elements that will reduce our impact on the environment, it's our most environmentally friendly building yet and we hope it will become a blueprint for the future of our buildings. The EVs compliment the direction of this office, as do the new hybrid vehicles recently delivered by Interleasing," says Paul.
Building our expertise in the world of EV
As many Australian organisations begin to focus more on their carbon footprint and the sustainability of their fleet vehicles, we'll continue to be market leaders, providing the latest solutions and optimal outcomes for our clients.
Interleasing firmly believe that making sustainability a priority has competitive advantages in the short and long term for our clients and partners. Through our specialist expertise, practical support and a forward-thinking approach, we're excited about what the future holds for EV's in the Corporate Fleet space.